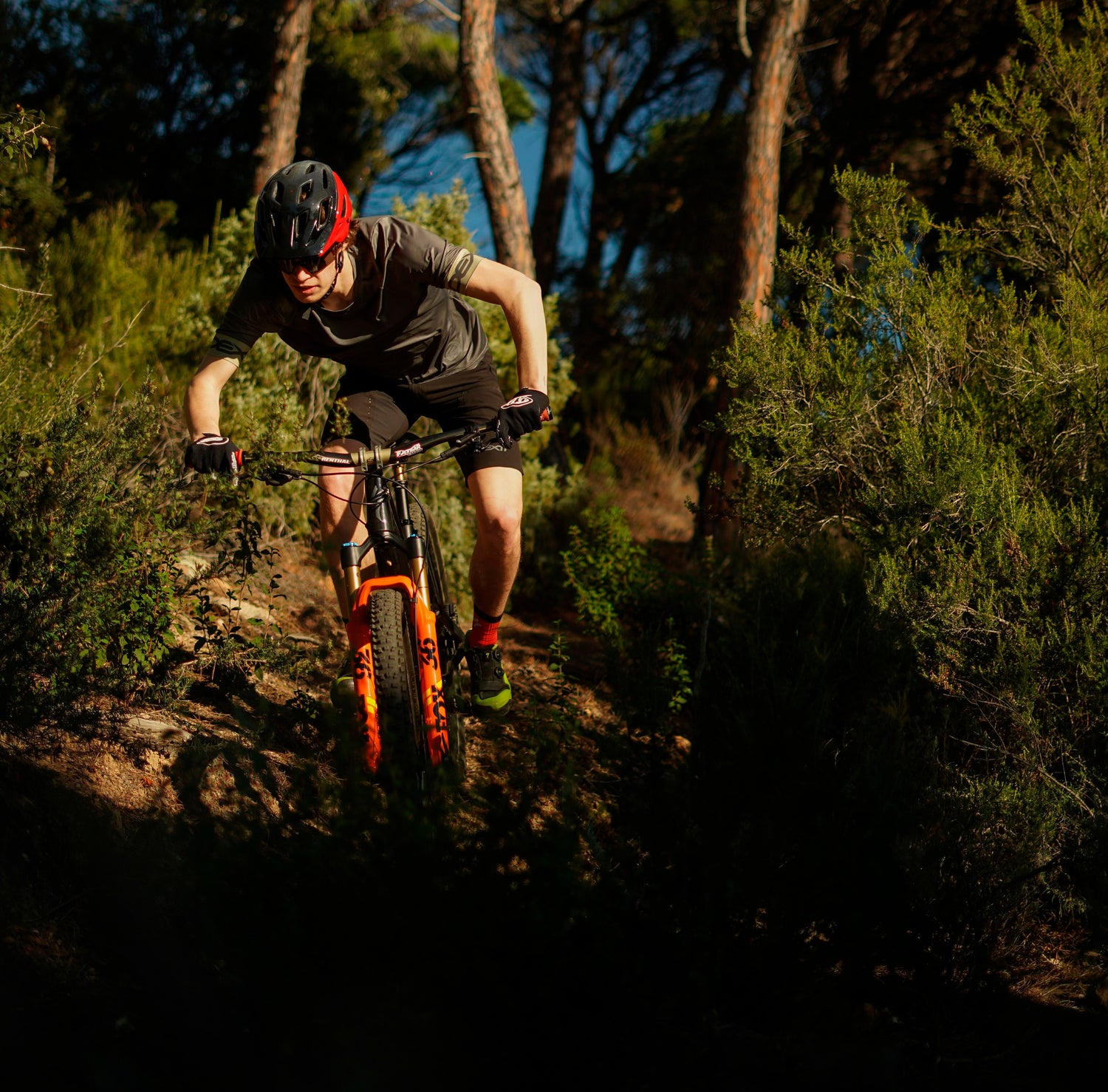 E-MTB North Patagonia
Delve into the depths of Chilean Patagonia with our entire Edexti team and your E-bike ,
where you will find huge meadows, mountains, glaciers and infinite memories that will not be forgotten.
Do not think about it and go out to enjoy the immensity of Patagonia with us.
PLAN DE RUTA
DÍA 1 / LLEGADA

Te recogemos a ti y a tu bicicleta en el Aeropuerto de Balmaceda en Patagonia y te llevamos al hotel de salida para que te relajes del viaje y puedas prepararte para el inicio de la ruta al dia siguiente.

En la tarde te ofreceremos un welcome-meeting para introducirte en los días de ruta y actividades programados.
DÍA 2 / BICI

Dia de puro mountainbike tanto si participas en grupo bike o de ebike, en el que recorrerás 76km de pistas básicamente con algunos enlaces iniciales sobre pequeñas carreteras asfaltadas y adentrándote en los Andes hasta la llegada donde te alojaras en cabañas de madera, ofreciéndote opcionalmente visitar un rodeo gáucho o disfrutar de la pesca del salmón (en temporada)
DÍA 3 / BICI

Nos adentraremos completamente en la Patagonia Norte por pistas muy fluidas (puedes pedalear en una MTB o incluso gravel, o ebike) durante 60km y sin apenas transito, lo que te permite descubrir la inmensidad de la naturaleza, sacar fotos increíbles .. para llegar a alojarte en un rancho patagónico que nos ofrece además un completo asado gaucho en la noche.
DÍA 4 / BICI

Seguimos pedaleando dentro de la región de Aysén, acercándonos todavía más a los Andes, cruzando ríos .. Patagonia en estado puro en una etapa algo más larga de 80km, para disfrutarla tanto en bici como ebike. 

A media tarde llegaremos al embarcadero del fiordo-Aysen para cruzarlo en una pequeña embarcación que nos llevará hasta el resort-hotel con termas naturales, spa.. relax en medio del bosque patagónico.
DÍA 5 / VISITA TREKKING GLACIAR-VENTISQUERO

En la mañana salimos del resort, cruce en embarcación para después dirigirnos en van a la visita-trekking al glaciar Ventisquero (opción de visitarlo también en barco)

Por la tarde vuelta en van al rancho, para alojarse en la noche y deleitarse con la cena de despedida.
DÍA 6 / COIHAIQUE TURISMO

Por la mañana vuelta en van cargando también las bicis hasta el hotel en Coihaique, y allí podrás preparar tu equipaje y bicicleta para el viaje de regreso así como disfrutar del resto de día de turismo en la peculiar ciudad del centro de Patagonia.
DÍA 7 / REGRESO

Te recogemos a ti y a tu bicicleta en el hotel y te llevamos junto con el resto del grupo al Aeropuerto de Balmaceda en Patagonia para que puedas iniciar tu viaje de regreso.
without companion

If you plan to come without any companion and meet the Edexti family by your hand, this is your opportunity to start your trip today!

Click and contact us!

E-MTB North Patagonia

with companion

We also offer the possibility of coming accompanied or with your friends, if so, do not hesitate and take the opportunity to meet us with a -25% discount!

Click and contact us!

E-MTB North Patagonia
Regular price
€2.999,00 EUR
Regular price
Sale price
€2.999,00 EUR
Unit price
per
Sale
Sold out
Ante ti una aventura que combina tres maravillosas etapas en bici, un trekking excepcional con visita al Glaciar más antiguo de la Patagonia Chilena y además la estancia en el resort de termas naturales del Fiordo en la región de Aysén.
View full details